About Wenger Watches
Wenger Watches: Wenger's 120-year history is marked by a passion for innovation and exceptional craftsmanship, as evidenced by its most iconic invention, the Swiss Army Knife.
Today's Wenger watches are obsessed with quality, precision, and meticulous craftsmanship. Each piece in his collection combines reliability and style, contemporary design with enhanced functionality, and high-quality materials with the expertise of skilled artisans.
The Start of the Brand Wenger Watches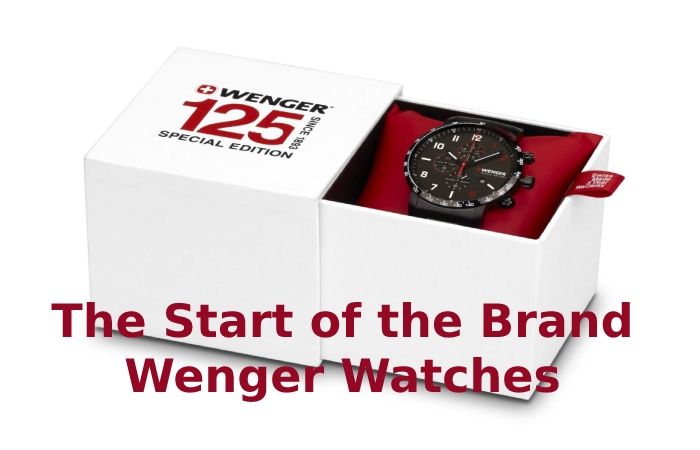 The history of Wenger watches begins in 1893 in Courtételle, a small town near Delémont in the Swiss Jura. The brand started as industrial cutlery under the name Paul Boechat & Cie. The company managed to secure a contract with the Swiss Army to manufacture knives and begin producing the tool that is now formally known as the Swiss Army Knife. Theodore Wenger became a brand member in 1897, just a few years after its inception. He worked as a minister in the United States and was appointed by contractors on his way back to Switzerland. This group of entrepreneurs just founded Paul Boechat & Cie. Wenger becomes a director, and his immediate task is to acquire a spoon-making machine so the company can diversify its product line.
The company has grown steadily and developed a passion for quality, precision, and exceptional craftsmanship. The best-known and most coveted product is still the Swiss Army Knife, and this knife is a multifunctional multitool that can help its owner in various challenging situations.
Wenger's Entry into Watchmaking
Wenger started making watches in 1997. Despite having over 20 years of craft experience, the brand is one of the most important names in the Swiss watchmaking industry. Their looks are design for multifunctional use and are therefore suitable for people who like to spend a lot of time on outdoor journeys. Wenger realized that a purely practical watch would not appeal to everyone. So he expanded his line to include watches that served the sole purpose of style and fashion.
Wenger in Modern Times
The brand fell on hard times in 2001 after 9/11. A popular point of sale for Swiss Army Knives was duty-free kiosks at airports. After the tragedy, pocket knives were ban from flying, depriving Wenger of huge profits. The brand had to restructure its business. Fortunately, another Swiss pocket knife manufacturer called Victorinox was able to take over Wenger and save the brand during this difficult time.
After the acquisition, Wenger retained its own brand identity and focused on manufacturing watches and other products sold by the brand. In recent years, Wenger has expanded into luggage and other travel accessories to diversify its business and also appeal to a broader audience. The brand's watch portfolio contains countless options, so there is something for everyone, whether for an outdoor adventure or to combine with an elegant suit.
Because Wenger's watch history is rooted in multi-purpose tools, the brand's timepieces can be seen as robust, practical, and often multifunctional. Despite the difficult times, Wenger focused on watches to become a key name in Swiss watchmaking.
If our history of Wenger watches caught your eye, read on for some of our Wenger watch references.
Wenger Watch Endorsements
The Wenger Urban Metropolitan Chrono Brown Leather Strap 01.1743.112
This Wenger ideal is part of the brand's Urban Metropolitan pool. The watch has a classic look with its all-black dial, but the two sub-dials add extra interest. The dial structures a date window between 4 and 5 o'clock, and the hands and indexes of the sub-dials are blue. The pop of color in the blue detailing stands out against the dark dial and makes this watch stand out on the wrist. Therefore the black dial is surround by a 44mm black IP steel case to complete the understate look.
This model is motorized by a quartz movement which guarantees its precision and reliability. Therefore the watch is fit with an honest brown leather strap which closes with a pin buckle. This chronograph perfectly embodies what it means to be a Wenger product, as the sub-dials give the watch multi-functionality. The watch is practical, precise, elegant, and modern, making it perfect for everyday use and special occasions.
The Wenger Avenue 01.1621.101 Women's Watch with Black Silicone Strap
Wenger manufactures a wide range of watches for men and women. This women's look is simple and practical, a perfect example of the Wenger brand. The black dial features easy-to-read Arabic numeral hour markers for easy timekeeping even when you're on the go. The silver hands stand out against the dark dial and perfectly match the color of the numbers. Hence the dial structures hour and minute indices for optimal timekeeping. A red seconds hand contrasts nicely with the minimalist dial, making it easy to keep track of short periods. This model is equipped with a black silicone strap, which makes it a practical watch perfect for everyday use.
The Wenger Urban Classic Chrono Stainless Steel Mesh Bracelet 01.1743.106
This model adds a touch of elegance to the Wenger collection. It features an all-silver color scheme that gives the watch a minimalist look and is guarantee to go with any outfit it's pair with. The white dial has three sub-dials, including one for the day of the week. There is a time window at the 4 o'clock position. Therefore the complications of this watch give the product a very specific multi-functionality of a Wenger brand product. Hence the dial features hour and minute markers with small green Arabic numerals around the outer edge for best readability. This model is protect with a silver mesh strap, which makes the watch comfortable to wear as it easily adjusts to fit all wrist sizes. This Wenger watch would be an impeccable addition to any watch collection as a simple and also elegant watch for special occasions.
Wenger Seaforce 43mm Blue Dial Stainless Steel Strap 01.0641.133
This watch's stainless steel bracelet and thick blue bezel give it a rugged and sporty look. The blue dial structures a date window at 3 o'clock and white hands and indexes for easy reading. The rotating diver's bezel has luminous markings for the easy task in the dark. Arabic indexes on the dial and bezel are extensive and easy to read. The solid functionality of this watch is typical of the Wenger brand. Hence it's an excellent choice for outdoor adventures, and its simple silver and blue color scheme makes it an everyday accessory.
Conclusion
Wenger watches are made in Switzerland, and the company's office in Delémont, Switzerland. Seemingly related to the basic ideas and also concept of the Swiss army knife. Wenger watches have a multifunctional outer purpose. Additionally, Wenger produces several watches that focus solely on elegance.
Helpful Resources