Introduction
Interview with Deepak Kanakaraju: Deepak has years of experience in digital marketing. Deepak has worked as a Digital Marketing Manager in renowned start-up companies in India, such as Exotel, Practo.com, and Instamojo.com.
He quit his full-time job and is now primarily a blogger and entrepreneur working on his projects. He is also a coach and speaker in digital marketing, and he blogs about digital marketing at DigitalDeepak.com.
Interview with Deepak Kanakaraju  – How Did You Get into Digital Marketing?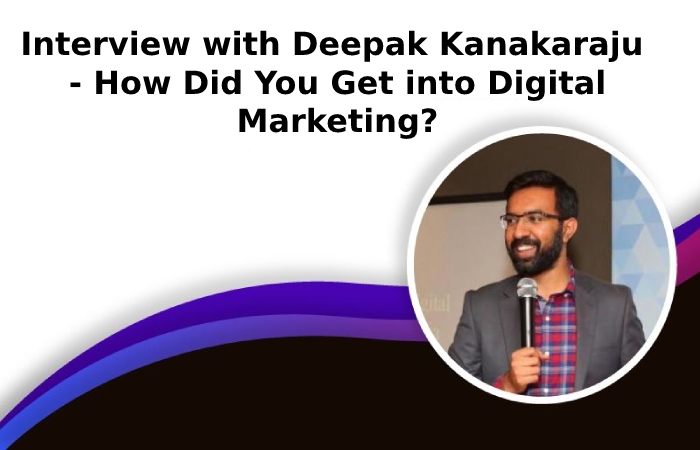 I studied civil engineering but got into digital marketing more or less by accident. During the last year of my engineering career, I had a lot of free time and started a blog about Indian Motorcycles.
I wanted to drive more traffic there and generate more revenue from display advertising. I finally learned all about digital marketing while looking to develop my blog.
Why do You Think it is Essential for Entrepreneurs, Marketers, and Students to Learn Digital Marketing Today?
Digital marketing is the future of marketing. If you say "marketing" a decade from now, it will be 99% digital marketing. Countless products and services fail because the marketing part is not considered.
Many people think that if you want a job in marketing, you have to learn marketing; this is a big mistake. Marketing is part of everyone's life at every stage.
Marketing surprises when you are a child and start crying to get your parents' attention! It is necessary to find a suitable life partner, and you must market yourself to your employer to get the job.
You need to arcade your products and services to your customers. And if you want to alter the world, you must deal with the issues correctly. If you are worried about world hunger and want to solve it, you need to use marketing to reach people, touch their hearts, and only then can you make a difference.
Gandhiji was purely a salesman. Why would he make his salt out of it? And inspire millions to do the same? He must spread a message, an idea.
Our PM, Mr. Modi, is also a marketing specialist. He is also a great digital marketer, markets the "India" brand in other countries and can see that the Make in India campaign was a great success.
I don't read newspapers; I don't watch television or listen to the radio. I use the internet for all this and more. There are lots of people like me, and the cake grows. Traditional marketing is dying, and in today's world, there is no way not to learn digital marketing.
What do You Think are the Most Major Mistakes Organizations are Making Today When Using Digital Marketing?
Many organizations think that only the means of reaching people have altered. So instead of TV ads, they route YouTube ads. Instead of print ads, they display ads. But they don't realize how people make decisions and buy also changed.
Consumers are tech-savvy and vigilant. They only buy from someone they know and trust. They read reviews, find out about a product, and only then make a purchase.
Therefore, inbound marketing is critical to converting strangers into satisfied customers. Many organizations are not aware of this. If you know about inbound marketing, many companies will be interested in hiring you.
How to Sell Effortlessly with Inbound Marketing Webinar. How was Your Experience Leading the Webinar?
I've been speaking to large audiences about digital marketing for years, but it's always been face-to-face on stage. This is my first time performing a webinar, and I was amazed at how effective webinars can be.
It grabbed me around 10 minutes to get used to speaking in front of a webcam, but once I started watching some questions and answers, I got into the flow!
Please Share the 3-5 Key Takeaways from the Webinar You Led for Our Community
A lot of people don't know how to get started with inbound marketing. Here are some conclusions:
Make a personal brand. Start a blog and write almost what you know. Do inbound marketing for your brand as I do at DigitalDeepak.com
Find out about companies that are good at inbound marketing. You can also write about it.
Read books and articles on inbound marketing.
Almost every inbound marketing tool I mentioned in the webinar has a free trial option. Try them all, experiment with them, and write about them.
Read, think, do, and write. Repeat! This is the only way to become an expert in any field.
Do You Have Any Suggestions for Us
It isn't easy to actively create and send content to participants. And you know very well that content marketing is essential. I suggest you create a series of 10 lessons on each topic and start drip marketing to people who sign up. It will keep you hard for a long time without manual human effort.
You can also start a public digital marketing forum. This could be an abode where anyone can come, sign up, and also discuss digital marketing. It's not informal to create and maintain a meeting, but who else can if a company can't do it? This way, you will get more participants for your webinars.
Conclusion
Interview with Deepak Kanakaraju: As part of the interview series, today we feature veteran digital marketing consultant Deepak Kanakaraju of DigitalDeepak, who recently quit his job to pursue his dream. Deepak will share his journey of more than five years in digital marketing, and I am sure he will learn many internet marketing skills from him.
Also Read: Measuring Social Media ROI Goal – How to Get ROI Goal in 2022