About Content Marketing
Content Marketing is a marketing strategy that focuses on capturing potential customers naturally, based on relevant content disseminated on the various channels and digital media where the audience is.
Digital marketing ceased to be a market trend and became an essential investment for most businesses, but you already know that, right? To stay relevant to your customers today, you must be visible online.
Therefore, it is no longer about the need to be present on the Internet but how to be present there to attract the public's attention and differentiate yourself from competitors.
You must use the best and most modern customer acquisition strategies, whose main element is: an inbound marketing strategy. One of the most important is content marketing, which is used and recommended by the world's leading specialists.
If you are fresh to content marketing or do not master this modality, we have prepared this definitive guide so that you can learn everything you need to know to become an expert.
What is Content Marketing?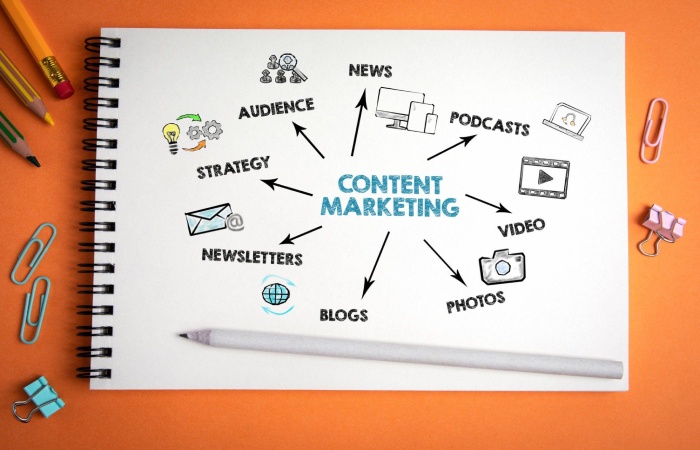 Content marketing is a way to target your audience and grow your network of principals and customers by creating related and valuable content, attracting people, engaging, and creating value, thus creating awareness of your brand and generating more business.
But to make it even more straightforward for you, I will break down the concept and explain it to you in detail:
"…Content marketing is a way to engage your audience and grow your network of leads and customers…"
First, you need to understand that the time when we were passively forced to watch TV commercials is over.
Today, the public has more power to choose the content they consume and how they interact. And you have the capacity and knowledge to produce the content your audience wants.
"…Creating relevant and valuable content…"
Traditional professionals find it hard to stop talking about their products and focus on what the public wants: valuable content.
Good content doesn't focus on selling but on providing value to the reader, e.g., B. to solve a problem, clarify a doubt or teach something. The sale is only a consequence of this process.
"…Attract people, engage and create value…"
Your content is valuable and delivers the right message to your audience exactly when they need it most. You exceed expectations by providing excellent content that your audience will want to share with others.
"…To create a positive awareness of your brand and thus generate more business…"
This is the most exciting part! Because you helped them when they needed it most, your audience will start to have a favorable view of your brand.
And as we know, people are likelier to do business with brands they know and love than with brands they don't.
How Content Marketing is Connected to Inbound Marketing
Inbound Marketing is the most important digital marketing strategy today. And therein lies content marketing. In this topic, we show you how the principles of inbound inform a content strategy.
To talk about the benefits and importance of content marketing, it is essential that we first understand what the inbound methodology is.
Inbound marketing is any strategy to capture people's interest without intruding on or interrupting their experience.
Unlike aggressive ads that shoot in people's faces when they're not ready, your goal is to captivate the audience subtly.
They let the public get closer to their company, respect their time and wait for their permission to carry their message. This is why inbound is also called attraction marketing.
To Succeed This, Inbound is Based on Four Pillars:
Attract: Through related content, inbound attracts visitors interested in the company;
Conversion: It is about converting visitors into leads, bringing them closer to your business, and converting them into potential sales;
Sell: Is your potential customer interested in your company's product or service? This is the time to show him that your solution is the best and close the sale.
Enchant: The connection between your company and your customer does not end with the purchase. Inbound preaches a lasting relationship that provides all the necessary support and delights the client with exciting materials and competent support.
You need to know that content marketing follows the inbound methodology. In other words, it's about engaging your audience to gain their trust and create a loyal following for your brand. But there are also other benefits of content marketing for your business.
What are the Benefits of Content Marketing
Why Use Content Marketing? In this element, we will show you the key benefits of the strategy for your organization to achieve its business goals.
According to a report published on Neil Patel's blog, 93% of B2B marketers use this method in their customer acquisition strategy.
As the numbers show, most companies already know the benefits of this method.
But why are they betting on it?
Well, the reasons are varied and very interesting for your company. Content marketing not only creates added value for you:
1. Increase Your Website Traffic
The digital transformation has resulted in most people using the Internet to search for information, especially in search engines like Google. That means your website is the main gateway for new customers, and Google is the way to get there.
Creating related content is the best way to get your website on the first page of Google — where your audience will always find it — and get them invited through that door.
The proof is that companies that use content marketing get twice as many visits to their websites on average. And if you produce other than 13 pieces of content per month, that number quadruples!
2. Generate Brand Awareness
Content production helps other people recognize your brand and learn more about your business's products and services.
As I explained earlier, people are more likely to buy brands they are familiar with and sympathetic to.
For example, regular blog readers prefer your brand when purchasing a product or service. After all, he previously knows you, and you have helped him several times with your content.
3. Increase Engagement with Your Brand
While brand awareness raises the number of people who know and perceive your brand positively, engagement aims to build a close and constant relationship with a select audience.
Creating quality content increases people's interactions with your brand and creates real engagement.
The result is evangelizers who recommend and defend it.
4. Inform the Market
Often your target audience does not fully understand the market they are being inserted into, what the products your company offers are for, etc.
In this case, don't give up! Produce content that responds to customer questions and teaches them everything they need to know to make purchasing decisions.
If your content is high-quality, you will overcome objections and increase customer satisfaction because they know your product in aspect and how to use it at the time of purchase.
5. Generate Sales in the Medium Term
Surely you are thinking: generating sales isn't what all companies want.
Of course! However, this is not always the ultimate goal of the content marketing process.
Increasing the number of sales, in this case, means focusing your content production on guiding your leads through the buying process and preparing them for decision-making.
Business opportunities arise naturally when the content strategy is disciplined and executed according to best practices.
Creating rich materials in an editorial calendar will help attract the buyer persona to your website. This is how potential customers access your website and find you ahead of the competition.
Nothing beats reaching a perfect prospect first for a sales team.
Developing content that focuses on the terms that your buyer persona is searching for on Google increases the generation of qualified leads exponentially.
That's the big difference with a company that does inbound marketing: prospects come to your sales team, so you don't waste time looking for them.
In this way, it is likely to optimize the efficiency and productivity of the sales department, which only contacts those that turn out to be real business opportunities.
At the same time, the advanced and comprehensive content benefits traditional outbound prospecting.
Using them in email threads makes it possible to inform your prospect about your offer and company. In addition, they strengthen the authority and visibility of the brand, position themselves as an essential reference for potential customers and add value when searching for information.
But these are just rare examples of goals. The most important thing is to identify yours to guide your planning in the right direction.
6. Increase Lead Generation
Ok, you already have visitors on your website. But without information about them, you won't be able to send the right content to convert them into opportunities and connect them with a seller.
That is why generating leads is the main objective of 64.7% of companies! And some are already getting three times more leads by doing content marketing.
And best of all: with a solid strategy that generates lasting success, traffic, and leads even without regular content production.
7. Increase Lifetime Value
Lifetime value (LTV) is the total value a customer spends on your business. Example: If your customers buy a product worth $50.00 twice on average, your LTV is $100.00.
Every entrepreneur knows it is cheaper to sell to an existing customer than acquire a new one. So using a content strategy for this purpose is a good move as it keeps the customer connected to your business.
You can use different types of post-sale content, such as B. Exclusive newsletters for customers to offer new products or discounts in your virtual store.
8. Reduce Customer Acquisition Costs
The CAC, Customer Acquisition Cost, is a metric that shows the value you invest in marketing and sales to acquire a new customer.
If the acquisition of a new client is cheap, its income covers the costs incurred up to that moment and generates a profit. Therefore, all companies aim to keep their CAC as low as possible.
But why am I explaining this to you? Because most companies still maintain a large sales team focused on acquiring customers and investing money in paid media to reach new customers.
These actions are successful in many moments but result in a reasonably high CAC. Also, because staff and advertising are not cheap, right?
With a content marketing strategy, you reduce CAC by providing materials that put customers' questions at the point of purchase while providing your sales team with e-books, webinars, and other content that can make the sales process more accessible.
Additionally, content marketing can empower your sales team, improve your lead conversions, build market authority, etc., to name a few of the benefits.
But clearly, you need a well-defined strategy before you can reap the rewards.
How to start a Content Marketing strategy
Content marketing is much more than writing, and that's the smallest part. First, it is necessary to define objectives, strategies, and metrics to evaluate.
Planning is everything before creating content: choosing topics, language, keywords, etc.
It is the moment in which you make clear the results you want to obtain with your strategy, the path you will follow to achieve your goals, and how you will measure your progress.
Producing content without planning is like taking a car trip without a GPS: you can have fun along the way, but you'll probably end up lost in the middle of nowhere with a flat tire.
For this reason, when preparing a content plan, we define all the company's Content Marketing strategy steps, starting with the person.
Conclusion
Content marketing has become a crucial part of any current marketing strategy. Content allows marketers to generate revenue, drive customers to their websites, and create a positive brand image. It's part of an inbound marketing strategy, filling the web with exciting information people find through search engines.
Also Read: Competitor Analysis – What It Is & How to Do It In 2022